Old San Juan, Puerto Rico
To protect the transportation of gold, silver and jewels, on its route from America to Spain, the Spaniards built a series of forts in the Caribbean. The beautiful city of San Juan was founded in 1521. A massive wall and forts were built around the city to protect it from the enemy. The city was used as a stopover for ships that came from Spain and a stronghold to prevent the enemy from taking control of the island and making Puerto Rico an enemy base.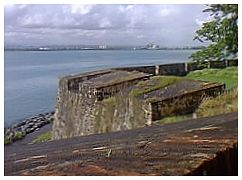 These walls and fortifications are part of the heritage left by Spain to Puerto Rico. Today the cobblestone streets, interior patios, hanging balconies, plazas, and chapels make of this historic city a charming and picturesque place to visit.
Military Adventures of San Juan
In 1595, Sir Francis Drake attacked San Juan in pursuit of gold and silver stored in "La Fortaleza". The artillery in "El Morro" effectively defended the city and punished the invaders sending them away with many casualties. In 1598, Sir George Clifford, Count of Cumberland, landed in San Juan and sieged the city but could not take El Morro. After suffering exhaustion and sickness they were forced to leave. Even the Dutch, Commanded by General Boudewin Hendricksz, landed on San Juan in 1625, the Spanish resistance at El Morro made it impossible for them to take over. The Dutch burned down the city, including La Fortaleza, and left.
Cool Places to Visit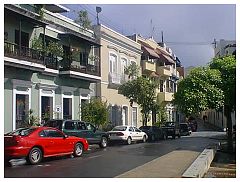 A leisurely walk through Old San Juan is one of the most pleasant experiences anyone could have here in Puerto Rico. The colonial architecture of hanging balconies and cobble stone streets make you feel like you have gone back in time. Here are only some of the nice places to visit in Old San Juan.
La Casita
Here at the Tourist Information Center you can pick up free literature and maps of Puerto Rico for your tour of Old San Juan and all of Puerto Rico. La Casita is located next to Plaza de la Dársena, overlooking San Juan Bay, near Pier 1. Telephone 1–800–866–7827.
Paseo de la Princesa
A great place to spend weekend afternoons. Local artisans display and sell their work. Also there is live music early Sunday evenings and on many other occasions.
Massive City Wall
Construction of this 42-foot-high wall that surrounded the city began in the 1630s. It is made of solid sandstone blocks and held together with mortar, limestone, sand and water.
La Puerta de San Juan
The San Juan Gate was constructed in 1520. This strong, heavy wooden door was the official entrance for those who came to Puerto Rico on wooden sailing ships during the colonization. Up the block is La Catedral de San Juan where Mass would be held to thank God for allowing them to make the journey.
La Fortaleza
Originally built as a defense fort, this small castle has been utilized as the governor's mansion for centuries. Guided tours Monday through Friday.
La Catedral de San Juan
This beautiful Cathedral, built in 1540 is a good example of Gothic architecture in the New World. Here in a marble tomb lie the remains of Juan Ponce de Leon.
El Morro
Six level castle 140 ft above the sea, overlooks the Atlantic Ocean and San Juan Bay.
San Cristobal Fort
Completed in 1771, this castle was designed to protect the city from land invasions.
Teatro Tapia
This is one of the oldest theaters in the Western Hemisphere. Performances of plays, ballets and concerts are held regularly.
Museums
Old San Juan is full of museums. Art exhibits and collections of historic items can easily be found throughout this historic neighborhood. These are just a few.
Institute of Puerto Rican Culture – Puerto Rican paintings and sculptures.

Museo de Las Americas – Archaelogical findings, santos (woodcarvings of saints), crafts and more. Located in El Cuartel Ballajá.

Museo de Arte e Historia – Exhibits Puerto Rican art and music. Many concerts and festival are held here.

Casa del Libro – Displays the art of printing and bookmaking. On display also, is a rare collection of books from the 16th century.

La Princesa – This restored building was formerly a jail. Today it is the headquarters for the Puerto Rico Tourism Department. On exhibit is Puerto Rican Art.

La Casa Blanca – This house was built as a home for Governor Juan Ponce de Leon who died in Florida before he could live there. His family lived here for 250 years.
Interesting Links
Fiestas De La Calle San Sebastian I
Fiestas De La Calle San Sebastian II
Fiestas De La Calle San Sebastian III Video