Caguas Botanical and Cultural Garden
A visit to the Caguas Botanical and Cultural Garden is a visit to nature and Puerto Rican history. The garden consists of 113 acres of which 58 acres are what once was the Hacienda San José, a historic cane sugar mill. A stroll through this refreshing countryside will convince you of how beautiful Puerto Rico is. We recommend the very inexpensive golf cart tour with knowledgeable guides who will explain in detail about the trees in the beautiful groves and the history behind the Hacienda San José.
Some of the groves you will find within the Caguas Botanical Garden are: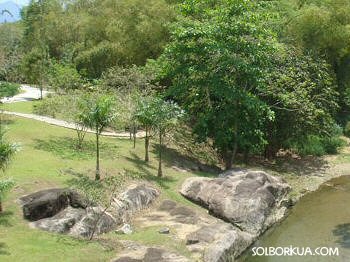 "Arboleda Ancestral Taína", Taino Ancestral Grove
This part of the botanical garden is a tribute to our indigenous ancestors. This grove consist of 50 species of trees native to Puerto Rico or brought to Puerto Rico by the Puerto Rican aborigine. You will find modern monoliths, carved with scenes of taino religious history, and a modern ceremonial Batey (plaza for community events in the Caribbean Taino culture) designed by Rosa (Anamuri) Rosario and created by Santos (Picapiedra) Torres. There are also traditional Indian planting mounds.
"La Arboleda Criolla", Criolla Grove
Along a path called "Ruta Caminantes Criollos", you find a grove of the native tree species important for their wood during the early 19th century in Caguas.
"La Arboleda de la Conciencia", Awareness Grove
This beautiful grove has been created to build awareness of Puerto Rico's endemic species in danger of extinction.
"La Arboleda Ancestral Africana", African Ancestral Grove
Testimony of our African heritage, this grove contains 40 species of trees and plants native to Africa and Madagascar or that came to Puerto Rico through Africa. A beautiful monument to Osaín, Spiritual Doctor of the African Yoruba culture, can be found within the grove.
"La Arboleda Zona Histórica", Grove within the Historic Zone
Here you will find the ruins of the Hacienda San José consisting of various brick structures and a very tall chimney. Many important beautiful trees are also found here in the Historic Zone.
History of Hacienda San José
Between 1765 and 1836, Spain created laws and reforms to stimulate the Puerto Rican economy which would also bring benefits to the Monarchy. These reforms would contribute to forming agricultural businesses and also allow trade with the USA and other countries. Puerto Rico began to commercially produce and export sugar, coffee, and tobacco to countries like the USA, England, France, Spain and Cuba.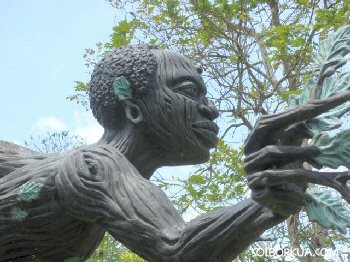 Hacienda San José was founded in 1825, in what today is known as Barrio Cañabón, by Don José Ríos an immigrant from Spain. The Hacienda produced oranges, plantains, rice, bananas, coffee, and other crops. Later on, cane sugar became the principal product of the farm. After the death of Don José, his son Manuel Ríos continued the work. Steam powered machinery and more efficient production techniques were introduced. During this time the Hacienda had around 30 slaves who did agriculture and domestic work. From 1858 to 1870 Hacienda San José was known as the major producer of sugar, rum and syrups in all of Caguas.
After the US invasion in 1898, sugar production methods in Puerto Rico were modernized. The Americans introduced enormous and efficient cane sugar production plants and envisioned local sugar plantations would supply the cane. The cane sugar haciendas in Puerto Rico could not compete and were pressured to stop producing sugar as a finished product and ended up as sugar cane suppliers to these big companies. By 1910 Hacienda San José also ended up a sugar cane supplier.
During the 20th century, Central Santa Juana owned by American entrepreneurs, had become the major sugar plant of Caguas. Don Fernando Guarch Ríos (great grandson of Don José who inherited Hacienda San José) resisted to become a simple sugar cane supplier. In 1920 he and others formed what was called the "Central Defensa" in an effort to produce sugar by locally owned producers. Unfortunately by 1928, Hacienda San José, strangled by the economic pressure, once again became a sugar cane supplier for Central Santa Juana.
By 1948, Puerto Rico became more industrialized. Sugar production took a smaller role in the economic activity in Puerto Rico. In 1971 Central Santa Juana closed and in 1972, Hacienda San José officially stopped cultivating sugar cane.
As time passes, our society and culture evolves. Here at Hacienda San José we have the opportunity to see and feel part of the history that has brought us to where we are today. The Caguas Botanical and Cultural Garden has taken on the task of preserving this important national patrimony for all times.