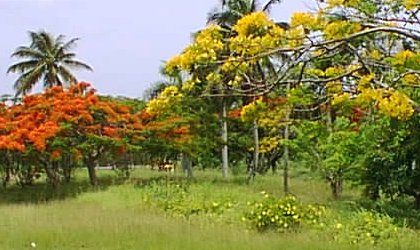 Geography of Puerto Rico
Puerto Rico is located in the tropical zone of the world globe. Temperatures average 82 degrees Fahrenheit. Here the seasons do not change very drastically especially when it comes to temperature. For most people it's summer all the time. But if you take a good look, you'll see the changes.
The seasons differ in rain, winds and plantlife. The dry season is usually from November to May and the rainy season takes place usually from June to November. But don't be fooled, you never know when it's going to rain . In Puerto Rico most showers last around 5-20 minutes. Even when we get lots of rain it will usually rain on and off.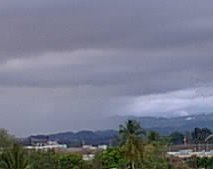 Our beautiful sun will greet you almost every day. Some plants like gandules (pigeon peas) and pascuas (poinsettia) flourish around November to February, while el flamboyán (flamboyant) tree expesses its glowing red flowers in hot summer (June-July). El roble blanco (white-cedar) tree will loose all its leaves to the April/May pre-summer sun and bloom in beautiful pink flowers, by July she'll be full of leaves again with only some flowers.
Climate here has it's variations from area to area. El Yunque Rain Forest averages 180 inches of rainfall yearly while the city of Ponce (southern part of the island) averages 40 inches a year. The temperature in the south is usually a few degrees higher than the north. Temperatures in the central interior mountains are always cooler than the rest of the island.
Our worst nightmare when it comes to climate is the hurricane. Some of these atmospheric phenomenoms can pack up 200 mi/hr winds and a tremendous amount of rain. Hurricane season extends from June 1st to November 30th.
The last major hurricane to hit Puerto Rico was Hurricane Georges on September 21,1998. Georges crossed the island from east to west, leaving a frightening path of destruction in every single town of the island. Seventeen inches of rain was reported in Utuado. Floods, landslides and debris obstructed roads and many towns were left isolated. Fragile wooden homes couldn't withstand hurricane force winds. Many families lost everything they owned. Thanks to the alertness and preparation of the Puerto Rico Civil Defense, few deaths were reported. An aggressive evacuation plan was put into affect before the hurricane hit. The people of Puerto Rico soon reconstructing our beautiful island.
It has been found that copper and it's related minerals, gold and silver, are found in commercially exploitable quantities in the center of the island, municipalities of Adjuntas, Utuado, Jayuya, and Lares. Studies have revealed quantities of 35 million lbs. of copper, 1,241 oz. of gold and 6,295 oz. of silver.
But decision to exploit these minerals is a delicate one. The social cost is extremely high. Things like air pollution, water pollution, the destruction of the Puerto Rican landscape and reduction of land fertility in the region is a very high price compared to the economical benefit this could bring to the people of Puerto Rico.
In September of 1996 the government of Puerto Rico's Land Authority turned over 700 acres of land located in the municipality of Adjuntas (Puerto Rico's Mining region) to the Department of Natural and Environmental Resources. In the early 1960's this land had been destined for open pit-mining. Today, this area on the beautiful hillsides of Adjuntas is officially designated as a Puerto Rican state forest and will be preserved for all Puerto Ricans and their visitors for all times.