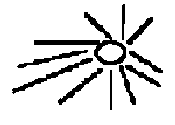 Facts for visitors to
Puerto Rico
Visas and Passports
US citizens do not require Passports and Visas to travel in or out of Puerto Rico. Puerto Rico is part of the USA. Citizens of other countries should contact the US Embassy for information on visa and passport requirements.
Money and Banks
The currency used in Puerto Rico is the US dollar. Most banks are insured by the US Federal Deposit Insurance Corporation. Many US Banks have branches in Puerto Rico just as some Puerto Rican banks have branches in the US. Major credit cards and traveler's checks are widely accepted throughout the island and automatic teller machines (ATM) are available in most areas.
Manners
A courteous tourist or foreigner can feel free to be himself or herself while visiting our beautiful island. Visitors soon notice that most Puerto Ricans on the island are friendly and courteous also.
Emergencies
Police
Fires Dept
Medical Emergencies
Accidents
CALL .......... 911
Medical Services
Puerto Rico relies on some of the best medical facilities and doctors in the Caribbean. Many US medical insurance policies are honored here.
Language
Puerto Rico is a Spanish speaking nation. Due to our close ties with the USA most people speak some English and many are fluent.
Tips
It is customary to leave a 15-20% tip for waiters and waitresses at restaurants and nightclubs.
Crime
As in other countries, Puerto Rico also suffers its share of social problems. Fortunately, tourists and rental cars are not a specific target for robbers. When in the city or countryside, always take normal precautions but feel free to be yourself. Most Puerto Ricans are respectful, courteous and helpful to others.
Electricity
Electricity is the standard US 120 Volts 60 Hz. AC.
Time
Puerto Rico is located in the Atlantic Standard Time zone. This is equivalent to Greenwich Meridian Time-4 hours. The island does not observe Daylight Savings Time.
Telephones
Puerto Rico Area Code.....787
Information....411
Puerto Rico relies on a state of the art, high tech. telephone system. Pagers, cellular telephones, voicemail, internet connectivity and more are readily available to anyone.
Mail
US Postal Service handles the mail in Puerto Rico. Fed Ex, UPS and other delivery services are available also.

COPYRIGHT © 1998 solboricua.com
Reproduction of layout or images is prohibited.