Click Here To See Images of El Yunque
Click Here For A Stroll from "El Condado" to "El Fortín de San Gerónimo"
El Yunque Rain Forest, Puerto Rico
The Caribbean National Forest is located 40 kilometers east of San Juan metro area. It consist of 28,000 acres of the most
beautiful Rain Forest in the world. It is characterized by a rugged topography and an overabundant, highly diverse vegetation. There are 240 native tree species, 23 of them found only in El Yunque. 88 Rare tree species. 50 native orchids and 150 types of ferns.
For the Taino aborigines, the Luquillo Mountain Range was a sacred place. The word "Yuke" means white lands in reference to the mountain tops which are usually covered by clouds. Petroglyphs can be found in some remote parts of these mountains.
EL Yunque is the oldest Forest Reserve in the Western Hemisphere. In 1876 King Alfonso XII of Spain set aside 12,000 cuerdas (1 cuerda =.9 acres of land) to be protected for all times. In reality his goal was to avoid the enemy from getting hold of some of the great wood for making strong ships that grew and still grow at EL Yunque. In 1903, the forest was proclaimed The Luquillo Forest Reserve and became the only Rain Forest within the US National Forest System. It is the only Puerto Rican Forest administered by the US Dept. of Agriculture Forest Service.
The most important mountain peaks are at El Yunque are:
El Toro 3533 Ft
Pico El Yunque 3496 Ft
Pico Del Este 3446 Ft
El Cacique 3346 Ft
Los Picachos 3175 Ft
Mount Britton 3075 Ft
La Mina 3055 Ft
Average temperature at El Yunque is 77.9° F at the lower elevations and 65.3° F at elevations above 3,280 ft. It rains almost everyday. Average rainfall is 200 inches a year. It usually rains more during springtime and autumn.
Although the Caribbean National Forest is the smallest administered by the US National Forest system, it is the most divers.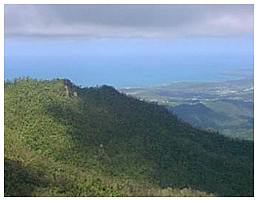 El Yunque is divided into 4 forests:
Tabonuco Forest- Located at elevations of up to 2000 ft, trees grow to a maximum of about 115 to 125 ft tall. Tabonuco and Ausubo tree are the dominant specie but there are plenty of Yagrumo , Guaraguao, Laurel Sabino and giant ferns.
Palo Colorado Forest- Occurs at 1970 ft-2950 ft. Here you can find lots of Caimitillo, Caimitillo Verde and Palo Colorado.
Palma Sierra Forest- This forest is found at elevations of over 1958 ft, as its name describes, the Sierra Palm is the dominant specie.
"Bosque En Las Nubes" (Forest in the clouds)- Located 2500 ft above sea level, this forest is limited to the highest mountain tops. These trees do not grow over 12 ft. It's usually very windy and the earth is saturated with water. Common tree species are Némoco, Roble de Sierra, Limoncillo Guayabota and Camasey.
Three types of fauna are found at El Yunque, reptiles, birds and amphibians. There are 8 types of lizards, 13 types of coquies (Puerto Rican tree frogs that sing). 50 types of birds, including the Puerto Rican Parrot which is an endangered specie. There is only one type of mammal natural to El Yunque and that is the bat, there are 11 types. There are also many varieties of fish, shrimps and other aquatic animal life. Also found, but very rare are snakes. The Puerto Rican Boa can reach a length of 90 inches. Hunting in El Yunque is prohibited and punishable by law.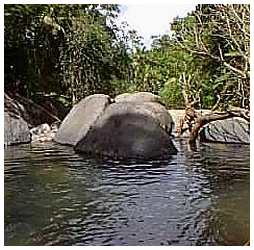 One of the most wonderful things about EL Yunque is that it offers the opportunity the enjoy and experience a real Rain Forest. You can take a less than one mile walk within the paved forest paths down to the most beautiful waterfall. Enjoy seeing the beautiful plant life, feeling the humid fresh air and listening to the birds and our one and only Coquí (singing tree frog). Another less than one mile hike can take you to the relatively high peak of Mount Britton where you can view much of El Yunque Forest, the Atlantic Ocean, the Caribbean Sea and a great part of Puerto Rico. That is of course, only for the short moments that the clouds may clear up. All of this and more can be achieved in a relatively safe manner. There are no wild or poisonous animals to worry about. Our advice: Get information at the visitors Center, and stay on the paved path. Also you may want to take something to protect your skin from mosquitos and use non-slippery footwear.
Cool Places To Visit at El Yunque:
Yokahá Tower
Mount Britton Tower
La Coca Falls
La Mina Falls
Quebrada Juan Diego
Baño De Oro and Baño Grande
El Portal Visitors Center
Palma de Sierra
Palo Colorado Picnic Area
Caimitillo
Palma de Sierra Quebrada Grande
Click Here To See Images of El Yunque
Click Here For A Stroll from "El Condado" to "El Fortín de San Gerónimo"
For great information on El Yunque visit The Caribbean National Forest WebSite